[EVENT] Milestone Share Event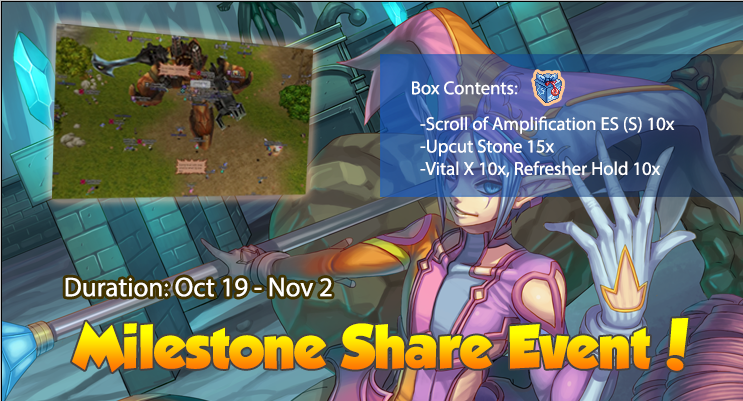 Greetings Flyffers!
_Thank you for supporting Flyff Iblis! Our Facebook Ads campaign video has reached 2million views this already but we still need your help. _
Steps:
Step 1. Like our Page (https://www.facebook.com/flyffiblisv15)
Step 2. Like and Share this video on your Facebook wall (https://www.facebook.com/flyffiblisv15/videos/1381375378551128/). Make sure the post you shared is set to "Public" so we can verify it.
Step 3. Using the Facebook account you used for sharing, send a message to our page (http://facebook.com/flyffiblisv15) indicating your In-game name.
Guidelines:
Follow the steps properly to get a free "Event Gift Box". If you tag at least 8 people on your post, you will get another free "Event Gift Box". Total of two giftboxes! Just make sure to set your post to "public".
Each box contains 10x Scroll of Amplification ES (S), 15x Upcut Stones, 10x Vital X, 10x Refresher Holds. The box and its contents are non-tradeable. Event runs for two weeks. A character can only be rewarded once (twice if you tag at least 8 friends). Also, each facebook account can only be used once for sharing. The facebook account should have atleast 150 friends to avoid dummies or event abuse.
If we reach 2.1 million views on the video before the month of November ends, we are throwing in a month-long 3x DROP Event! What are you waiting for? Share the video now to your friends and family!